I'm delighted to have been voted a MT, BSkyB Future Leader of Sustainability.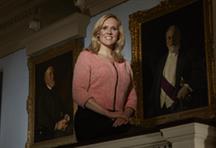 What makes me most proud is that judges included Jonathon Porritt founder of Forum for the Future, Barbara Stocking CEO of Oxfam and Martha Lane Fox who founded Lastminute.com. And that this was the most highly contested category. I was up against organisations Like M&S and Sainsbury's who I'm sure have much bigger budgets that we do.
Collaboration
I won it for my work co-leading The Finance Innovation Lab and UnLtd Future. What this shows to me is that in times of limited resources, collaboration helps you go so much further than you could on your own.
It's important to say, what was not picked up from my interview, that this prize is a reflection of the openness of my boss Richard Spencer, who allows me to explore and grow into ideas that seem outlandish. Jen and Charlotte who I equally co-lead The Lab with and who in fact, started it first at WWF-UK. Jason Mollring who had the idea to start UnLtd Future and Charlotte and Suki, from ShirLaws, who we co-ran it with. Prizes don't fit our collaborative reality.
Here's the press release:
FUTURE LEADERS AWARDS: In our search for the rising stars of sustainability, Rachel Sinha, Sustainability Manager at the ICAEW, wins the Corporate Ace category for her commitment to changing the finance industry.
Sinha, 31, faces a tough challenge – how do you persuade the finance industry to radically change itself and become more socially responsible?
Appointed sustainability manager at the Institute of Chartered Accountants in England and Wales (ICAEW) five years ago, Manchester University graduate Sinha says: 'People knew that the financial system had to change, but they didn't know what to do. There was a lot of fear and people thought it wasn't possible.'
Within six months she had co-founded the Finance Innovation Lab, which makes people more aware of the social and environmental effects of their decisions. 'Many of the systems we have in business are out of sync with what we value: family and a sense of community,' Sinha says.
Through the Lab, 3,500 participants discuss ways to make the financial sector more sustainable at workshops and get-togethers. Much of the core team is made up of ICAEW members but Sinha welcomes anyone in finance, from social entrepreneurs to investment bankers and NGOs. 'It will only happen if we connect everything – economy, society and the environment,' Sinha says.
But getting support has been a challenge. As MT editor Matthew Gwyther put it: 'She really is pushing a rock uphill.' Sinha hoped to raise a few million dollars to kickstart the project in 2009, but financially cautious corporations would not invest.
'It must have been extremely painful and very difficult to have the initial finance model fail completely,' Jonathon Porritt says. 'The problem is the finance industry is still desperately narrow-minded and defensive.'
But Sinha didn't let this put her off and now most of the teaching is done with the help of social change practitioners Hara Practice Collaborative.
So far the Lab has helped organisations including Cooperative Financial Services to develop a social finance strategy. It has also received funding from the EU to study the consumption patterns of private households and their impact on sustainability and economic growth.
In 2011 Sinha helped launch Unltd Future, a programme that supports social entrepreneurs, and Sinha speaks at conferences from the US to Lebanon. Anything, she says, to get the message out: 'We need many more people working on sustainable alternatives and we must support those who are dedicating their careers to this. We need to change the way people view sustainability, and that means changing the behaviour of all industries.'